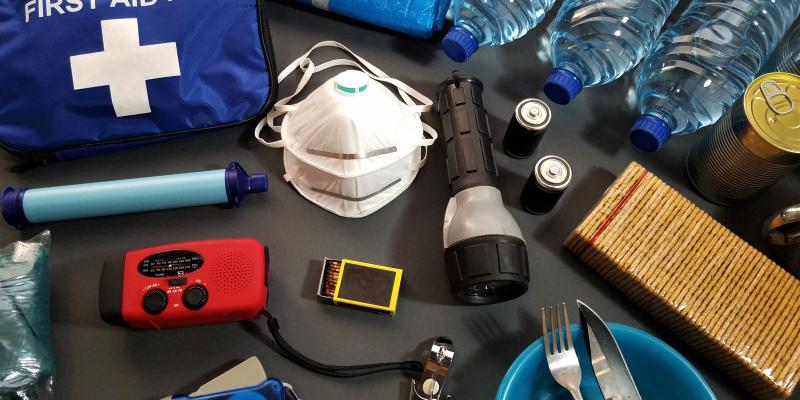 September is National Preparedness Month, a time to think about how to prepare for disasters and emergencies that could arise at any time. A home is typically a person's largest financial asset, and it's important to keep that asset protected, along with the people who live in it. 
Ready.gov's 2023 theme for National Preparedness Month is "A Lasting Legacy", which emphasizes that the life you have built is worth protecting. By preparing for disasters, you can create and protect a lasting legacy for you and your family. We can help get started with a few tips below:
Protect the exterior of your home
If a hurricane or tornado is in the area, doors can come loose and debris can sometimes break windows. If you aren't able to install wind-resistant doors and windows or stormproof shutters, you can board up windows and doors with plywood as a temporary fix. If there are any small cracks around your windows, re-caulk them to prevent water from entering.
Secure any outdoor furniture or bring it inside. If you have a garage, you should park your car(s) in it to prevent any vehicle damage.
If you are in a flood-prone area, use sandbags around doors to keep water from getting into your home. 
Remove any large tree branches that are hanging over your roof. Make sure you keep your gutters and drains unclogged and your roof is in good repair. 
Protect the interior of your home
Any large furniture or appliances in the home should be secured to the walls or floor with brackets or cables, this way they are less likely to fall over and injure someone. 
Make a plan
By making a plan today, you can sidestep some of the chaos that comes along with natural disasters. Talk with the other members of your household and put together a plan that will meet everyone's needs. You can start by answering these questions:
How will I receive emergency alerts and warnings?
What is my shelter plan?
What is my evacuation route?
What is my family/household communication plan?
Having an emergency preparedness kit is another valuable tool to keep in your home. This kit should have food, water and other supplies to last for several days. To assemble your kit, you can use online tools to help determine what you might need. 
Check your Homeowners Insurance
The natural disasters covered by your homeowners insurance depends on the type of policy you have. Check your plan online or talk to a representative from your insurance company to make sure you are insured against the natural disasters likely to occur in your area. 
While natural disasters can be scary, having the right tools and processes in place can take some of the anxiety out of weathering one. If you are still trying to find a way to finance a home to protect and love, visit NCHomeAdvantage.com to see how the NC Home Advantage Mortgage™ can help!