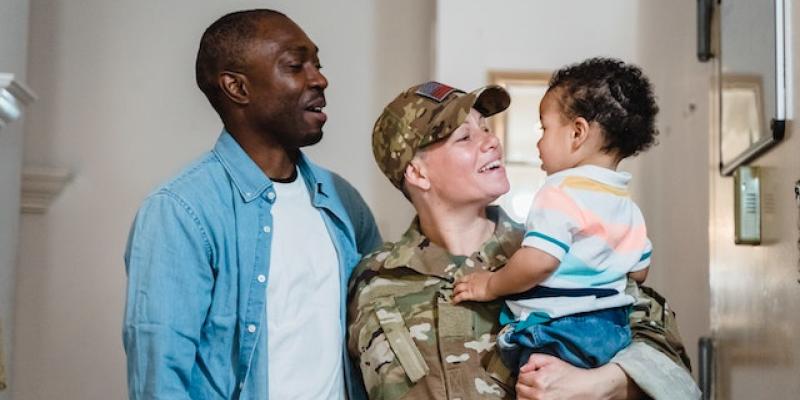 North Carolina is home to thousands of military veterans, as well as those who are still serving, and many may dream of buying a home of their own to put down roots outside of their military base. Fortunately, buying a home can be within reach for many military home buyers thanks to our NC Home Advantage products. But first, we want to show our gratitude in honor of Military Appreciation Month by providing you with a few home buying tips to help you get started. 
Be Realistic About Your Budget
You want to look for a home that will cost no more than 30% of your monthly income. Research has shown that exceeding that threshold could put you at risk of falling behind on different bills, and even losing your home, so this piece of advice is vital. We recommend using our home ownership calculator to help you figure out how much you can spend on a mortgage, as well as talking to a lender near you to discuss what you can comfortably afford before you start your home buying hunt.
Get a Real Estate Agent
A real estate agent's expertise is free to you. They can help you find the right home, navigate the home buying process, advocate for your best interests, negotiate with the sellers and so much more. A real estate agent is a key part of your home buying team and we partner with preferred real estate agents across the state who have completed training on our mortgage products to better assist you on your home buying journey. 
Leverage Your Resources
Military home buyers have access to an array of resources that can help make buying a home more affordable, including the VA Home Loan and affordable mortgage products from the NC Housing Finance Agency. Use these resources to your advantage to secure financing and find a home that you can love for the long term.
Putting down roots when you are in the military can feel like a far-off dream, but we're here to help make it happen. We know that coming home means more when it's your home, so after spending years making sure that our nation is safe, secure and stable, it's time to sit back and relax in a home that does the same for you. We now offer a dedicated area on our NC Home Advantage website to help you learn more about our NC Home Advantage suite of mortgage products. See if you're eligible to benefit from our programs today!