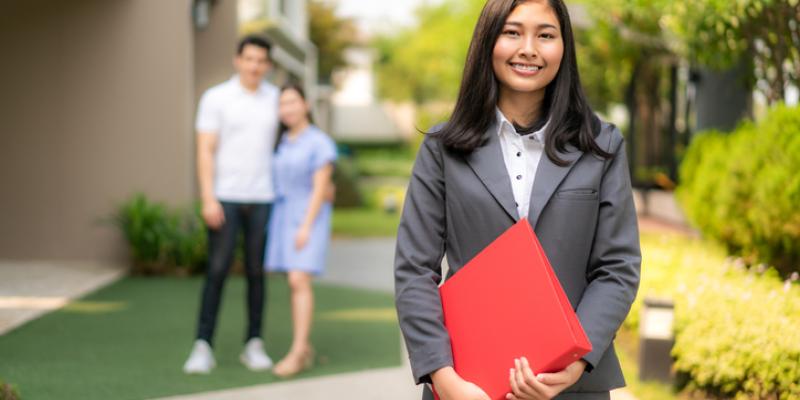 A real estate agent is a licensed professional who represents people either buying or selling real estate—or both! If you're buying a home in North Carolina, this real estate could be a single-family house, townhome, duplex or condo. Real estate agents organize and assist in this real estate transaction by helping buyers find a home, sellers sell their home and representing them in legal negotiations. Agents may work independently, with another agent or with a real estate brokerage and are most often paid on commission—a percentage of the final sales price. The average North Carolina real estate commission is 5.6% and the seller typically covers this fee, which gets deducted from their sale proceeds during closing. That means real estate agent services are free to home buyers!
There are a few different types of real estate agents that first-time and move-up buyers might work with throughout their time in the housing market. Below we have a brief explanation of each one to help you get through the home buying process with the knowledge you need to successfully buy a home.
Listing agent/seller's agent
A listing agent, also known as a seller's agent, represents clients who are selling their home. A good listing agent helps their seller by pricing their home based on a comparative market analysis of homes sold in the area with similar features, advertising their listing on the Multiple Listings Service (MLS) database, providing tips to increase the home's value, negotiating with the buyer's agent, holding open houses and helping the seller throughout the overall process. 
Buyer's agent
Buyer's agents are—you guessed it—agents who represent the buyer. It is the buyer's agent's responsibility to find properties that meet the client's needs and represent them during the real estate transaction. They would typically make recommendations on how much to offer for a home and may also recommend other professionals during the process, like home inspectors and movers. 
Real estate broker
A real estate broker is an agent who has obtained advanced licensing to oversee other real estate agents. Qualifications vary on a state-by-state basis, but most brokers typically become owners and managers of their own real estate firm. Brokers can still represent buyers and sellers, but have larger legal and financial obligations and authority. 
Dual agent
A dual agent is when the same real estate agent or agency represents both the buyer and the seller. This could be considered a conflict of interest, since a seller's agent is trying to obtain the most money for their client's home and a buyer's agent is negotiating for the lowest price for that same home. However, some buyers may prefer a dual agent because of ease of communication, there are more known details about the property and dual agents sometimes accept a reduced commission. 
Realtor®
Often, you might hear the words "Realtor" and "real estate agent" being used interchangeably. However, a Realtor is a real estate professional who is a member of the National Association of Realtors®. Realtors must adhere to the Realtor® Code of Ethics and membership allows access to market data and other benefits that help simplify the buying and selling process. 
Now that you know what types of real estate agents you can expect to come across and you're ready to start looking for a home to call your own, it's time to start building your home buying team! We partner with preferred real estate agents statewide who have completed training on our mortgage products. Use the Find a Real Estate Agent search tool on our website to locate a preferred agent in your area today.