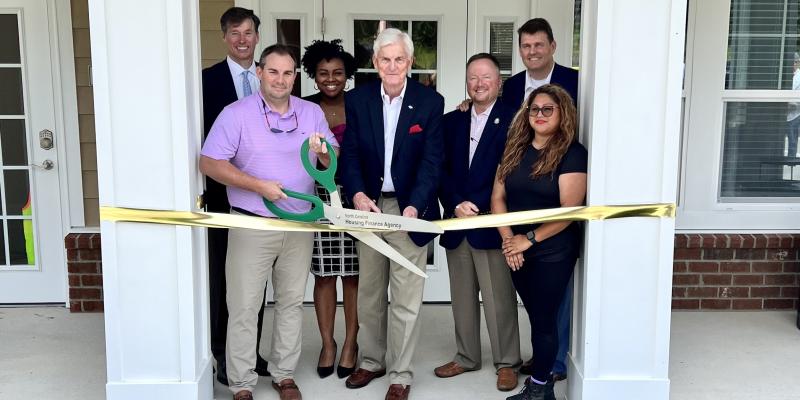 **MEDIA ADVISORY**
RALEIGH—An historic $190 million appropriation made by the NC General Assembly last year to the state's Workforce Housing Loan Program (WHLP) is already addressing substantial funding gaps for workforce housing developments caused by the pandemic. 
On June 16, NC House Majority Leader John Bell will present a ceremonial WHLP check at Central Garden apartments in Goldsboro—one of 77 developments statewide assisted by the infusion of funds. A ribbon cutting will immediately follow. Central Garden will help address the shortage of affordable apartments in Wayne County, where more than 53% of renters are cost-burdened, paying more than 30% of their income on rent. 
WHAT: Check presentation from the NC Workforce Housing Loan Program and ribbon cutting
WHO
:
House Majority Leader Bell, NC Housing Finance Agency officials, local officials 
WHEN: Friday, June 16 at 11:00 a.m.
WHERE: Central Garden, 3227 Central Heights, Goldsboro, NC
Developed by MC Morgan and Associates, Central Garden was awarded funding by the NC Housing Finance Agency in 2020 to provide 80 apartment homes affordable for working families. After pandemic-related construction cost increases, supply chain disruptions and labor shortages stalled Central Garden, a $2.97 million loan from the WHLP appropriation enabled construction to resume by going directly into the construction and lowering rents. 
Statewide, the $190 million Workforce Housing Loan Program appropriation kickstarted the construction of 77 stalled developments with more than 5,100 apartment homes. These investments will provide much needed housing for working families and seniors on fixed incomes.
"This historic appropriation will expand housing options for working families all across our state," said Scott Farmer, NC Housing Finance Agency Executive Director. "We are grateful to the General Assembly for recognizing and addressing the housing shortage facing thousands of hard-working North Carolinians." 
The North Carolina Housing Finance Agency is a self-supporting public agency whose mission is to provide safe, affordable housing opportunities to enhance the quality of life of North Carolinians. Since its creation by the General Assembly, the Agency has financed more than 298,860 affordable homes and apartments, totaling $29.16 billion. To learn more about the Agency and its programs, visit www.HousingBuildsNC.com.